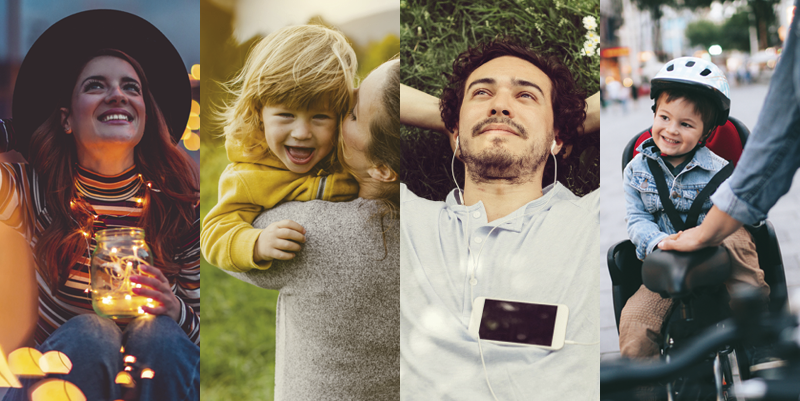 From the unpredicted explosion in consumption to the rise of conscientious consumption, from 15 critical changes in values to Mindful Mondays, there have been a series of market mutations that now require a significant evolution of the tissue paper sector.
Incorporating uncertainty, disengaging from the future: is this neo fatalism?
When people have no idea what tomorrow will bring they can become fatalistic. Among the factors that have contributed most to Covid-19 anxiety is that no-one knows exactly when the pandemic will end.
The future is, by nature, hypothetical, indefinite, inscrutable. Our experience of prolonged uncertainty has resulted in a widespread malaise. Groups such as adolescents or people living alone, and those working in sectors such as live entertainment or catering, have experienced the worst psychological impacts of Covid.
But people – with their biologically inbuilt adaptability – have begun to incorporate this situation in their daily lives. So out of fear and anxiety, new survival trends are emerging that take on board uncertainty, and in some way turn it into a benefit.
The future can now be seen positively, even with full awareness of how uncertain it is. Strategies are being implemented that tend on the one hand towards detachment, on the other towards control. We detach ourselves from our fears, while trying to control unpredictability by wrapping it in "soft" scenarios which are easy to manage. Reality, however, is more complex than anything we might conceptualize; the boundaries between feelings, ideas and opinions are not very clear and defined.
Among the traces that can be found almost everywhere in the world:
a sort of "neo fatalism", a way of detaching from the future, which becomes less to do with planning and more about living in the moment
a need for "lightening", which translates into a propensity for spontaneous consumption, prioritizing collectivism, ritual, entertainment and experience
compulsion and isolation, especially in those who are psychologically less resilient, which leads to detachment from the world
a deeper sense of self, which in consumption can translate into the need for transparency, essentiality, wholesomeness.
Insights:
Think of Tissue paper products that help people rediscover their collective rituals in a lighthearted way.
The advent of (new) conscious consumers
Hall & Partners recently released the new results of its The Value Shift research. Based on 20,000 questionnaires submitted in 10 countries around the world, the study records a change in 15 basic values that have manifested themselves as new consumption needs. It also describes a new, even more global, even more sensitive awareness.
Among the top five values that mark the change, it should be noted that 59% of the interviewees agreed with the statement: "I think it is important for people to be more open, empathetic and real, showing that they understand how people feel," indicating a personal sensitivity they have now recovered and integrated in their subjective identity. Confirming this interpretation, 65% of the respondents agree that: "I respect people who contribute something – these are my heroes, not just celebrities who are famous for being famous"; the picture is one of a widespread desire for authenticity.
Insights:
In the face of these trends, products, processes, services, communication, internal policies and relations with consumers will have to return to being more "raw", less bureaucratic, omnichannel, increasingly personalized, and in real time.
Post-Covid consumption scenarios: the importance of analyzing data
Let's explore just for a moment the dynamics of an off-topic field such as eating habits. The periodic reports from the EngageMinds HUB of the Università Cattolica del Sacro Cuore in Milan focus the trend towards purchasing "free-from" or "enriched" food and specify: "When profiling the consumer for psychological variables such as anxiety or depression, or even a high perception of the risk of contracting Covid-19, the percentage of Italians who show a strong preference for free-from and enriched products rises very significantly." From a psychological point of view, everything that can be "eliminated" is regarded as superfluous and often harmful; to be regarded as enriching, on the other hand, a supplement needs to help in particular situations. This focus on the Italian situation would seem to go against the trend for the need for authenticity (which is expressed in relationships but obviously also reflected in the type of purchases made); we would expect growth in farm-to-table and organic foods. However, these data are cluster-specific and the phenomenon simply testifies to the extent to which market niches can represent a situation which diverges from global trends. Attention to the characteristics of one's targets is fundamental, especially if we consider the tension and polarization of our current situation.
Insights:
Going back to the Hall & Partners study, analyzing the difference between consumers in the 18-34 age group and the over 45s, we can see different basic attitudes. Young people are drawn towards a small-community dimension and tend to consider brands as real subjects they can interact with and demand consistency from. The older group are more prone to introspection and are focused on what concerns themselves. Community is understood as a country, a region, and therefore a more "enlarged" setting compared to what younger consumers favor. All this should spur marketing and communication to reflect deeply and create multi-target strategies which are well-differentiated in every respect.
Mindful Mondays: well-being, everywhere
A US insurance and finance company, Mutual of Omaha, has started an initiative linked to Mindful Mondays, offering employees mindful relaxation activities to start the week so they can reduce and manage stress. It is an almost universally accepted fact that alternative therapies – in particular, disciplines that steer toward awareness and deep relaxation – can be a barrier against stress and therefore contribute both to productivity (in the case of workers) and to health (for everyone). While in some countries such as India, health policies reduce premiums if policyholders practise Yoga, the assumed value of well-being for individual health and professional performance is gaining ground globally, and companies are starting to undertake ad hoc initiatives. All this indicates clearly that the inner dimension is an important, widespread value to be embraced.
Insights:
For companies both in B2B and B2C, it will become increasingly important to take initiatives for the well-being of fellow workers, to choose the services of like-minded suppliers, to support the need for the well-being of their customers and of society in general. The Monday Campaigns path is becoming increasingly viable and boasts major players among its adherents.
15 values that have changed in the post-Covid consumer scenario
This is the detail, reinterpreted and adapted, of the critical mutations identified by Hall & Partners:
now moments
experience the now as an exciting and engaging antidote to the unpredictability of tomorrow
safety first
risk reduction, the perceived safety of one's personal spaces, the need for protection
anti-frivolity
attention to things (and purchases) that you really need and that improve your life
look local
the deep meaning of community (at various concentric levels) will once again be the glue that binds and nourishes people's awareness
visible values
people ask that companies and their representatives get involved in shared causes and values, to show themselves and their brands as allies and develop a better vision of the future together
new heroes
actions will absolutely speak louder than words, status or success; storytelling will have to abandon celebrities and embrace the stories of the new heroes
personally digital
always on, always exciting, always personalized; this is what consumers ask of companies, as they seek to be amazed and involve brands actively in various aspects of their lives
patriotic revival
our country becomes "our place in the world", with consumption that enhances territorial belonging
inventive change
change has been legitimized, and companies have the task of acting with creativity to innovate and surprise
planet matters
with a new awareness of fragility, consumers are asking brands to take a step toward eco-responsibility for the good of the planet and of future generations
simple pleasures
the little things become the new luxury, the familiar and comfortable will trump the complex and expensive
home comforts
with the home as a new work setting and the holding the memory of long lockdowns, it must be closer to the identity and needs of its inhabitants; from a social point of view, it will become the ideal theater of family life
authentic activism
not only stances on ethical issues for companies, but consistency, courage, activism
really real
more honest human relationships, relationships with brands in which people feel heard, understood and supported is the scenario that is taking shape and that promotes empathy to being a universal value
togetherness wins
winning together will be important, and it has to be done with kindness, respect, a sense of gratitude; with brands, consumers will aspire to sign a social contract that binds companies, communities and individuals.
Insights:
Spending time and energy in analyzing the 15 assets identified and translating them into corporate change is one of the most important investments a manager can make. We're on the crest of the wave, so it's the ideal time.
Tissue and post-Covid 19 changes
Let's start from the end. Imagine a person who is using any Tissue paper product and try to define, using a bottom-up logic, an inverted funnel of changes necessary for the Tissue industry.
The Tissue product: ethical values
The consumer will want to be sure that with purchase, use and disposal, they will not have contributed to pollution, waste and exploitation. A sustainable packaging, traceable and full of clear and verifiable information is therefore needed to embrace the new deal of consumption by forging an alliance with people. Upstream of all this, there must therefore be an enlightened, bold company policy that demands that suppliers and distribution follow strict codes of conduct, in line with the values of environmental sustainability and social equity.
The Tissue product: values in use
The user experience, hygiene, natural materials, processes and additives will be increasingly under scrutiny. All this is achieved by working on logistics, research, production and distribution. And the above is achieved by communicating it thoroughly and sincerely, overseeing all the touchpoints.
The Tissue product: how to update the production chain
These are the elements of strategic importance to align with the new values in restructuring the Tissue production chain:
logistics
the logistics revolution is just around the corner and is becoming increasingly necessary. Changing the production model by working on logistics and intralogistics will make it possible to redefine the entire production process (from procurement to delivery) in an efficient, sustainable way, and to eliminate unpleasant or dangerous tasks for people. And all this with the assurance of continuity in production even in the case of events such as the pandemic
artificial intelligence
a smart process, smart machinery and continuous dialogue between those involved in production are essential to ensure that the most courageous business choices are also sustainable and capable of guaranteeing profit margins that assure economic returns by guaranteeing affordable shelf prices
flexibility
product customization, processing of new materials and limited stock are market needs that producers will increasingly have to deal with in the future. Indeed, the 2020-21 two-year period teaches that markets can be radically disrupted even in just a few weeks. For branded as well as for white label production, having a flexible production system is now considered a non-plus-ultra
packaging
from palletizing to the package that ultimately ends up on the shelves, communicating value passes mainly through packaging. The possibility of having packs made of innovative, increasingly sustainable and smart materials is fundamental, as is the evaluation of information – which comes down to traceability and ergonomics. Packaging is also meta-communication. Just think of the values that the simple adoption of a biodegradable material or the absence of chemical adhesives can represent for the consumer and the strategic positioning they perceive for the brand that makes these choices.
The Tissue product: corporate values
Here we embark on potentially slippery terrain that must nevertheless be tackled:
human centering
companies will need the courage to rethink for themselves the centrality of people, reorganizing work, relationships, career paths, and the role of customers (and end users). And all in a human-centered way. A good route can be to start from mission and vision in order to make – where necessary – the changes to be adopted in the company. Areas to work on include gender equality, respect for suppliers and customers, well-being in the workplace but also employees' support for community activities on company time (the Timberland Path of Service (TM) program is an example)
impact investing
impact investing is a financial activity made "with the intention to generate a measurable, beneficial social or environmental impact alongside a financial return" and goes exactly in the direction that consumers tend to want; a direction in which companies give up a small portion of profit to conduct actions that have a positive impact on the world
support social causes
Patagonia Films has made a series of documentaries (the latest one is called Artifishal) to denounce the conditions on fish farms; the goal of the International Women's Coffee Alliance (which makes use of the contribution of various coffee brands involved with ad hoc projects) is the recognition and enhancement of the female role in the coffee industry, starting from plantations. These are examples of how it is possible to support social causes by making a pact with your consumers.
Focus: Beyond Budgeting
In a market vulnerable to sudden changes in the landscape, there are elements of business management that struggle to meet the need for flexibility; one of these is defining the annual budget. The result of complex and painstaking work, the budget largely determines the corporate climate throughout the operating season and appears to be inflexible – set in stone.
Yet, with no small amount of courage, a business management practice has been asserting itself for several years which… does not take budget into consideration! It is called Beyond Budgeting.
It is an approach that tends to make the phases of business management more fluid and dynamic, and moves away from the idea that the definition of budgets is the irremovable cornerstone of a company's activity. Beyond Budgeting decentralizes the process by making organizations more autonomous, intelligent, fast and accountable. This view is supported by Douglas McGregor's so-called "Theory Y" on the motivations for people's active participation in work teams.
Beyond Budgeting is based on six leadership principles and six process management principles:
Leadership:
engage and inspire people around bold and noble causes; not around short-term financial targets
govern through shared values and sound judgement; not through detailed rules and regulations
make information open for self-regulation, innovation, learning and control; don't restrict it
cultivate a strong sense of belonging and organize around accountable teams; avoid hierarchical control and bureaucracy
trust people with freedom to act; don't punish everyone if someone abuses it
connect everyone's work with customer needs; avoid conflicts of interest.
Processes:
organize management processes dynamically around business rhythms and events; not only around the calendar year
set directional, ambitious and relative goals; avoid fixed and cascaded targets
make planning and forecasting lean and unbiased processes; not rigid and political exercises
foster a cost-conscious mind-set and make resources available as needed; not through detailed annual budget allocations
evaluate performance holistically and with peer feedback for learning and development; not based on measurement only and not for rewards only
reward shared success against competition; not against fixed performance contracts.