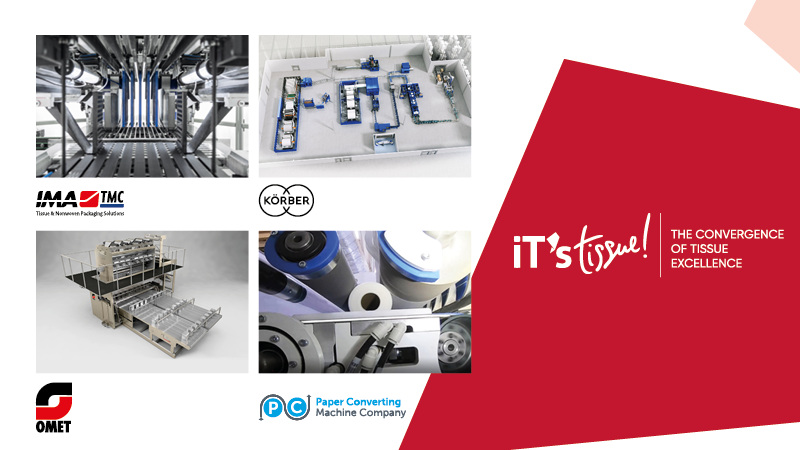 iT's Tissue is, and always has been, all about technology: cutting edge, and seen in action and close up. It is a unique opportunity. What follows are some of the highlights which visitors can expect when they come to Lucca in June 2022. Here, in the second of our previews, we look at four of the companies behind the project: IMA TMC, Körber, Omet and PCMC.
IMA TMC
Today's market is demanding wrappers that are flexible and able to produce a wide range of products, including those overwrapped in poly or paper. The need is also for fast machines, with a single wrapper able to process the production of a full-size rewinder, while maintaining ease of use, especially considering the high turnover in the current labour market. Just-in-time production is also required: the ability to switch batches of production in minimum time, keeping raw materials and warehouse costs to a minimum. Last but not least: sustainability, where TMC has also shifted its focus to in the past couple of years, recently introducing the first wrapper able to wrap rolls in paper. To answer to the above market requests, IMA TMC has launched WRAP250: a huge leap in wrapping technology.
WRAP250 not only leads to a 25% increase in production speed (up to 250 ppm), with a smaller footprint, but it also includes multiple technology improvements, such as quick changeover and the never stop concept, to allow the wrapper to automatically check and discharge non-compliant roll configuration. In addition, the PUSH-PULL overhead trolley allows better and easier control of the pack while it moves to a different section of the wrapper. IMA TMC WRAP250 is the answer to all current market needs.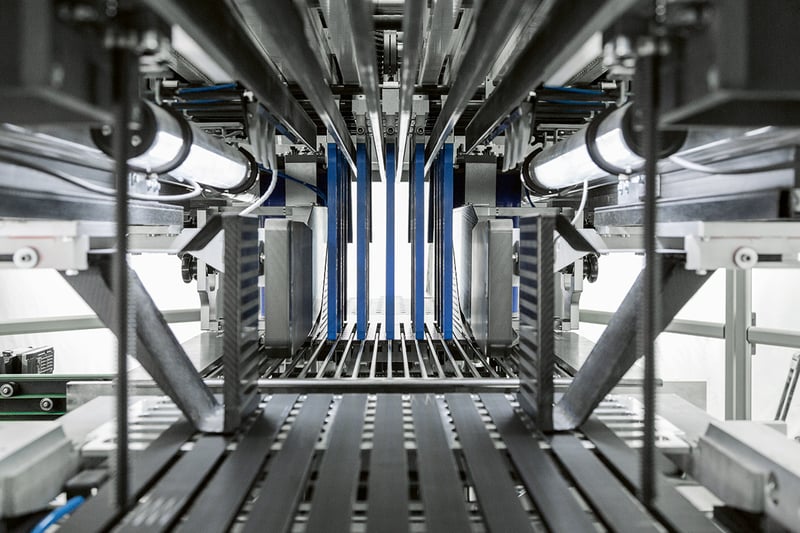 WRAP250 not only leads to a 25% increase in production speed but also includes multiple technology improvements.
Körber Group
Körber Business Area Tissue is transitioning from a machinery supplier to a strategic partner providing technologically advanced and integrated solutions through the Körber ecosystem.
In this revolutionary market approach, the technologies involved in the entire tissue converting process are now integrated into a single solution, from raw paper to finished product, right up to distribution logistics.
In the Körber ecosystem all the machines making up the production line, from parent reel unwinding to palletization, including those developed by companies external to the Körber Group, are connected to each other and controlled by Sam Flow, a dedicated piece of software that continually monitors the process and is capable of self-adjusting the main production parameters to deliver the maximum production efficiency.
During iT's Tissue 2022, it will be possible to view examples of how individual machines communicate with each other to obtain the maximum production efficiency. In particular, Körber will present the new Perini Vega S8 lines for converting large diameter rolls typical of both "away-from-home" and consumer products, MTC ITF Change for interfolded products featuring an easy cut-off format change, which is possible by simply replacing the drawer containing the folding rolls, and Casmatic Zephyrus for packaging roll and folded products with recycled cardboard boxes also in mixed format - a sustainable concept dedicated to the e-commerce channel, and the PA15 solution for innovative, fast and flexible palletizing.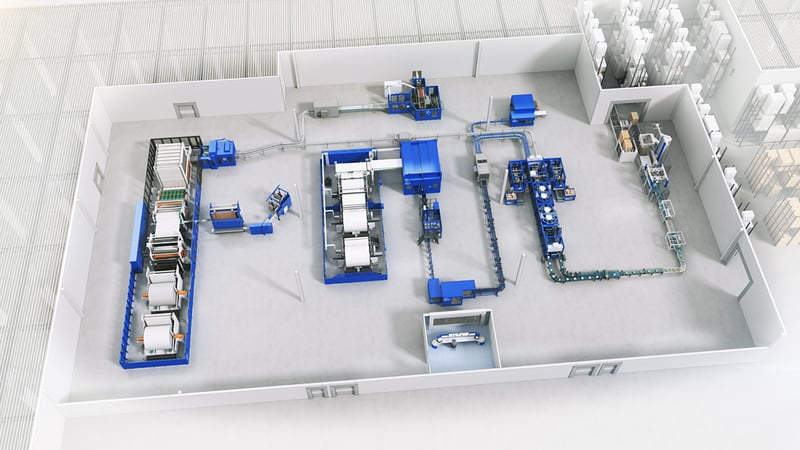 Körber will show how individual machines communicate with each other to obtain maximum production efficiency.
Omet
Among the new technologies OMET will present to the next edition of iT's Tissue, 6th-10th June 2022, is the revolutionary RED Line, the new converting line for increased production. Thanks to a new servo-controlled cutting unit, specifically developed by OMET to reduce waste and time, this machine doubles the usual production, thus reaching up to 10,000 napkins per minute. Live in demonstration will be also the MF Line, the OMET multi-folding machine with a vacuum/mechanical folding unit that provides the maximum flexibility in terms of folding options. The innovative ASV Line, the easy-to-use and highly modular OMET machine for the production of high-speed interfolded tissue products will also contribute to the event with its new technologies! But the real turning point is the new XV Line, the revolutionary machine designed by OMET to increase the production capacity and the efficiency of the entire converting process. This line is the result of a careful technological research with innovative and patented operating principles that allow for an absolute modularity of the machine itself. This high productivity line can reach up to 25,000 pieces per minute. Don't miss this opportunity.
The Future is Now!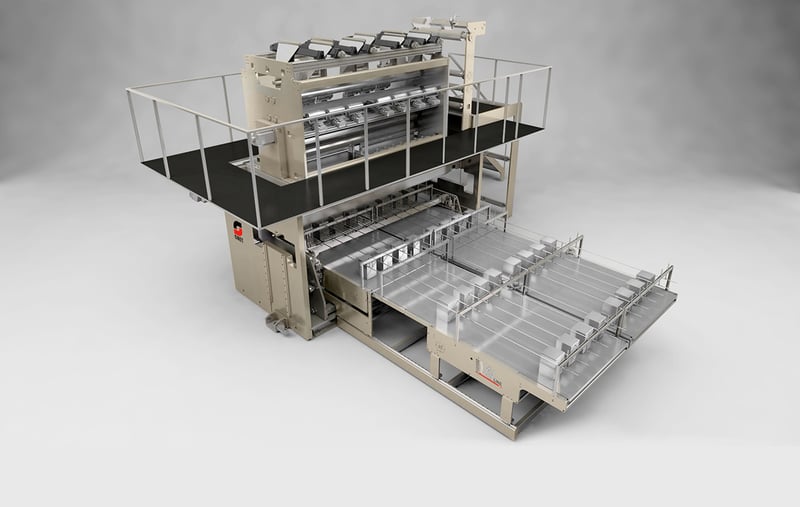 Omet XV – the real turning point
PCMC
After decades mastering center winder technology (Centrum) and perfecting surface winders (Forte), PCMC began asking some thought-provoking questions about winding. What if the logs did not have to climb uphill to get into the winding nest? What would be the best way to wind and support a log preserving bulk and caliper? What winding technology could merge the advantages of surface and center winding removing the disadvantages? Which wind nest design could be inherently robust to process material variations and, at the same time, be the easiest to run for the operator?
The answer is PARAGON, a new high-speed rewinder with a new winding concept that only PCMC could have created. PARAGON employs a revolutionary new winding nest with center drives and a winding belt beneath the product which affords exceptional control and support for the logs from winding start to finish, as well as superb caliper retention of the wound web. It is innovative yet easy to use thanks to SmartTOUCH, the clean and modern interface that offers enhanced smart features.
PCMC's history in tissue converting dates back nearly a century. PARAGON combines leading technology from PCMC's proven Forte rewinder with an innovative, patented winding design, initiating the dawn of not just another century, but also of a new era of rewinding.
During iT's Tissue PCMC will also present a top-category packaging and palletizing line as well. Both solutions together will lead to a clear increment in product quality and performance.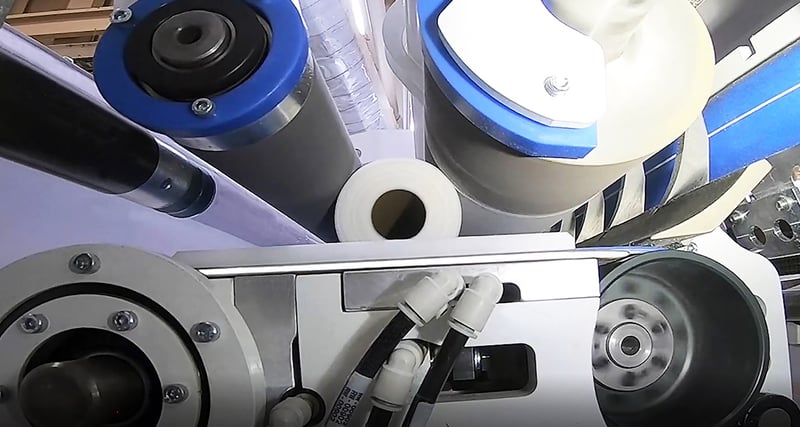 PCMC's PARAGON features a revolutionary new winding nest.