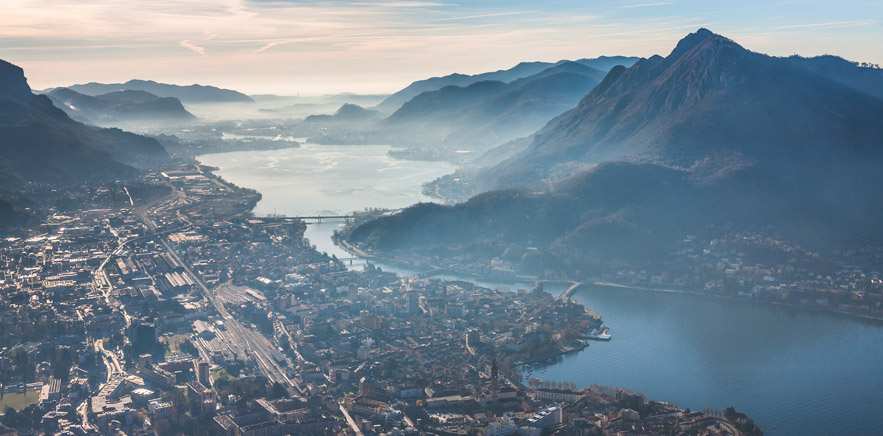 Discovering It's Tissue 2018: Lecco, home of the poet Alessandro Manzoni.
"Lecco, the principal of these towns, giving its name to the territory, is at a short distance from the bridge, and so close upon the shore, that, when the waters are high, it seems to stand in the lake itself. A large town even now, it promises soon to become a city". With these words Alessandro Manzoni described his native city in the novel "The Betrothed".
A city blessed with an almost fairytale-like natural setting, Lecco's monuments can tell the story of the territory from Medieval times up to World War I. Its importance began in the Early Middle Ages when the city became a strategic point for the trade which took place via lakeside routes.
Lecco offers multiple opportunities for sports enthusiasts, lovers of the great outdoors and those hungry for culture. To name but a few: The sites associated with Manzoni – a historical and cultural itinerary through the various locations in the city that served as a background to the life of the poet; or the Sentiero del Viandante (The Path of the Wanderer), a journey extending along 40 kilometers and winding its way through chestnut woods and olive groves, passing through some of the most attractive villages on the west shore of the lake.
More adventurous tourists can also visit the Pyramids of Montevecchia, 15 kilometers from Lecco – an open-air sanctuary that recalls the structure of the Giza Plateau and that instills a feeling of peace and solemnity.
And then of course there is the food. The culinary tradition in Lecco combines produce from the lake with the influence of the mountains: everything from game to fresh water fish.
This is Lecco, the city of Manzoni.