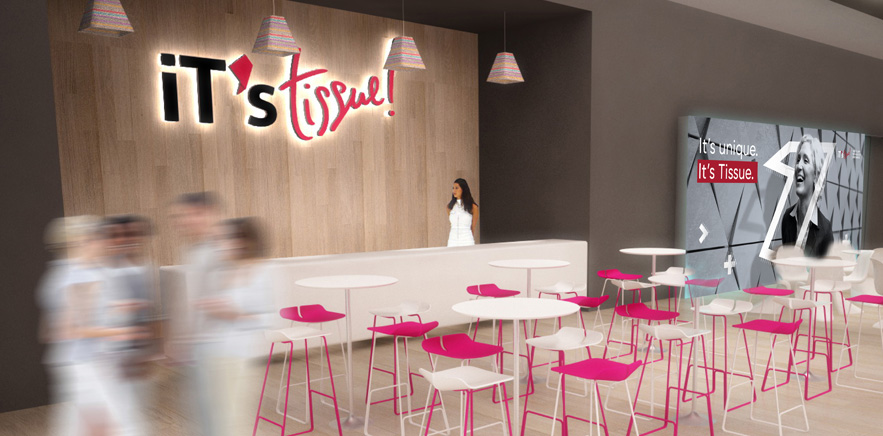 The international trade show, for the first time ever in Milan.
This year the It's Tissue brand, that unites 12 excellences of Made in Italy, will be present at Tissue World.
The edition takes place in Milan from 10 to 12 April, where the companies of the Italian Tissue Valley are participating with a spectacular collective stand (G01, Hall 3) on an overall surface of 850 m2.
"The stand is designed as a wide reception area for the guests of our 12 Network Members, each of whom will have their own reserved area within it. A central reception area with 8 hostesses and stewards, 2 areas dedicated to the sponsors Rockwell and Henkel and 14 meeting rooms, 2 of which inside the stand and 12 in the area of the hall", tells us Maddalena Marcone, Project Manager of the Tissue Italy Network. "The lounge area of the stand will offer our guests a cafeteria service for breakfast in the morning and a snack at tea time, a bar for aperitifs and a restaurant that each day will propose specialties typical of Tuscany, Lombardy and Emilia Romagna, the 3 regions of origin of the It's Tissue companies. The space is characterized by a modern design with a 56-meter LED wall in the upper portion for projecting images and messages."
Tissue World was born in Nice in 1993 and is a unique event of its kind. With the new exhibitions in Istanbul, Milan, Miami, São Paulo and Bangkok, it offers an integrated platform of exhibits, congresses and debates. In-depth technical sessions and conferences are scheduled, as well as a vast choice of connected side events.
A privileged occasion to become better acquainted with the state of the art of the tissue field and to delve deeper into the strategic assets for the development of the industry. The Milan stopover is also a showcase of excellence for the great all-Italian event scheduled for next year – It's Tissue 2018, organized by A.Celli Paper, Elettric 80, Fabio Perini, Futura, Gambini, MTC, OMET, PCMC, Pulsar Engineering, Recard, TMC and Toscotec.