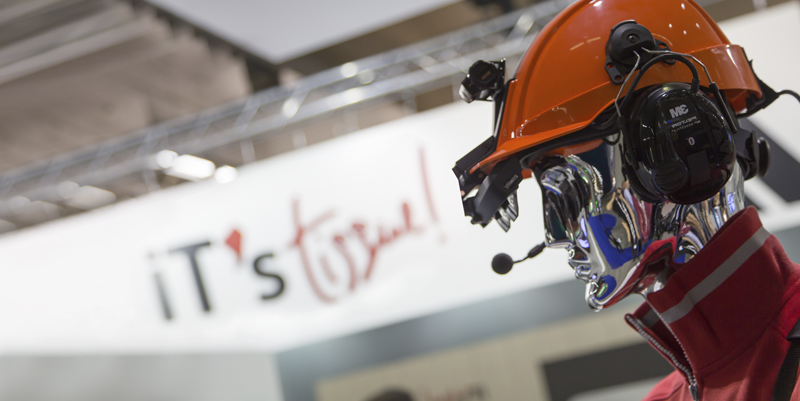 Customer care related services are a strategic asset for companies supplying technology to the tissue industry: they are an essential ingredient for enduring client relationships and ensure high quality operational standards, business continuity and production line availability.
Prompt intervention in case of breakdown is not enough to keep machines efficient: companies must also implement preventive measures that allow potential problems to be foreseen and avoided over time.
Experience acquired over the years has enabled technology companies in the tissue industry to develop software that oversees a line's efficiency through several indicators: when set values, gathered over time, surpass certain thresholds, the software alerts the relevant contact center. Such technologies allow systems to be monitored remotely, assessed in terms of status and breakdowns prevented.
Each line is equipped with an appropriate maintenance and preventive checks control board. A variety of services guarantee the line's optimal functioning through tailored assistance contracts that offer companies priority treatment when intervention is needed. Dedicated systems keep track of all actions taken, allowing troubleshooting analysis and avoidance of potential further malfunctioning.
Engineering and Technology for Industry 4.0
Engineering and information systems used by tissue companies have typical lifecycles of more than 10 years. Substantial changes can occur over such a timespan: new businesses, new products and production requirements. To meet clients' diverse needs, post-sale assistance services strive to respond swiftly to any request, helping companies to keep their assets and their operating capability at the highest level through the chosen solution.
In addition, the implementation of the Internet of Things (IoT) has made remote line control for predictive maintenance a reality. Thanks to secure management software networks, which evaluate signals generated by sensors installed on the machines, companies can monitor the functionality and wear of sensitive components. A traffic-light system is typically used in control interfaces to indicate equipment status: a green light means the line is functioning normally; a yellow light indicates the need for maintenance and check-up; a red light is a call for technicians to intervene immediately, due to a stoppage. Requests are often generated automatically and managed, as a result, remotely. At times, however, these systems also require hands-on assistance.
On Demand Assistance in the Tissue Industry
A well-structured assistance system provides access to technicians 24/7, guarantees standard and reliable tools, well calibrated preventive procedures, and optimum results. Statistics show that over 90% of maintenance and assistance requests are tackled and resolved within less than two hours.
On Site Technical Assistance
Assistance teams that support companies in the tissue industry are made up of exceptionally skilled staff, who ensure on site assistance and solve issues in real time. Several task forces oversee both ordinary maintenance schedules and unscheduled interventions: their worldwide presence enables companies to intervene promptly once a request for assistance is made.
The Importance of Training Services in the Tissue Industry
To keep up with quality standards and deal with increasing operator turnover rates, companies in tissue technology sector offer their clients a dedicated training service: a team of experts typically provide focused training on the components of specific equipment and contribute to enhance production process efficiency by optimizing machine performance via intuitive set-up procedures.
Big Data and Performance
Thanks to data-driven insights on machine performance, technical engineers can suggest targeted improvements to reduce downtime to a minimum and maximize overall equipment effectiveness (OEE).
The Need for Spare Parts in the Tissue Industry
To tackle their clients' needs, the technology companies can offer sales channels dedicated to replacing individual parts as well as entire kits for product changeover. Spare parts are normally available worldwide, thanks to dedicated physical inventories that can fulfill 80% of incoming requests, using high quality products.
It doesn't end there: in addition to providing spare parts, tissue technology companies also offer targeted installation services, configuration and fine-tuning to enable companies to make the most of their assets and drastically reduce the threat posed by obsolete parts.
The future demands efficient, up-to-date, flexible lines where breakdowns and malfunctioning are prevented. After all, a partner's reliability becomes all too clear over the long term: new digital technologies and predictive, IoT-based maintenance enable companies to stay competitive.