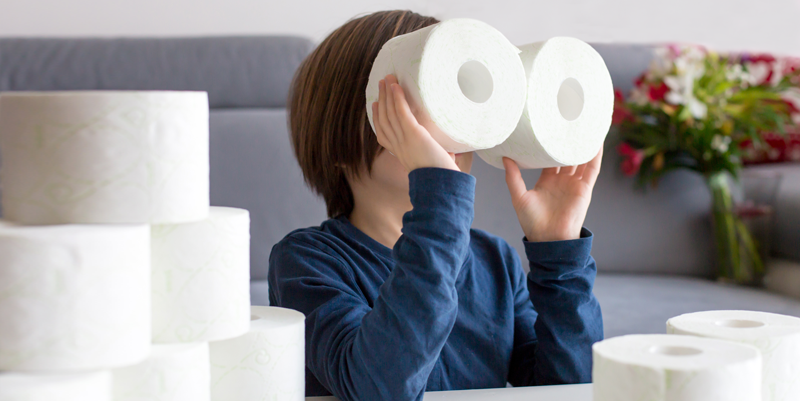 The tissue paper product sector does not rank highly in terms of innovation… Or does it?…
What do laser, somatostatin, MP3 and Bluetooth have in common? They are innovations, things which broke new ground and allowed the creation of new services, products, markets and lifestyles. If we look at toilet and other tissue paper grades, it is a struggle to find genuine innovations in recent decades. (NB: the laser was invented in the Sixties, somatostatin was synthesized in the Seventies, Mp3 and Bluetooth are, respectively, from the Eighties and Nineties, while the first roll of toilet paper in history was produced in 1857).
But if we can't talk about product innovation, does that mean is everything at a standstill? "No" is the answer. Here are five reasons why innovation in the Tissue sector is alive and well:
Sustainability


Within an established range of products, the relentless quest for sustainable solutions advances by leaps and bounds, year after year. This is why from raw materials to packaging, from the elimination of additives to the scaling down of formats, ecological innovation in the tissue sector is a continuous and unstoppable process.

Dispensers


The Tissue paper product is more than just paper. Dispensers are an integral part of the product itself and their engineering, increasingly sophisticated and precise, is an ongoing innovation process that has led to increasingly effective, reliable and cost-saving systems.

Production


Higher-performance machines, more efficient lines, reduction of waste and minimization of maintenance needs are frontiers that shift every season, with the pursuit of factors such as reliability, cost savings and speed. The advantages of production innovations in the Tissue field accrue to all the players in the process, from the final consumer to manufacturing companies, from the environment to operators.

Product life cycle


There are tissue paper products whose life cycle ends with… a flush of the toilet. But there are others (such as food contact papers) that can be recycled. Only innovation makes it possible to ensure that production lines can create compostable or recyclable products for the market without having to go through too many alterations. And it is again innovation that allows what until recently was simple "waste" such as packaging, to find new life, both as a result of biodegradability and thanks to the recovery of polyethylene.

Micro-perfection


Improving a roll of kitchen towel is possible, even today, in 2021. As long as we invest in research. This is what the companies of the iT's Tissue network do constantly to improve their customers' performance and satisfaction among users (who are increasingly conscious and demanding). This is how embossing solutions that optimize paper yield in terms of absorbency, resistance, elasticity, optical properties and firmness are born. And this is how production processes become increasingly better controlled, safer and more intelligent.
So, who says there is no innovation in the tissue sector?
Focus: Acknowledging the role of the consumer
Over the years, the entire Tissue sector has tuned in to consumers, allowing them to influence supply, production and business strategy. In just a few years, one of the production sectors with the greatest potential impact on the environment has turned into an ecological trendsetter, bringing an unprecedented environmental revolution in its wake. Is it just about marketing? No, because the Tissue sector began to listen to the demands of consumers well before ecological impact became an essential factor for success. In addition, producers have prioritized investment in ecological performance over short or medium term payback prospects.
Producers' environmental awareness has grown over the decades thanks to the fact that companies have asked consumers to get in touch with them. By so doing they have activated common initiatives, communication lines and touch points which recognized people's fears, desires and preferences. The Tissue paper sector was among the very first to acquire a profound awareness of its social role, of its responsibility towards the planet and of the need to change for the good of all.
It's only Tissue but we like it!