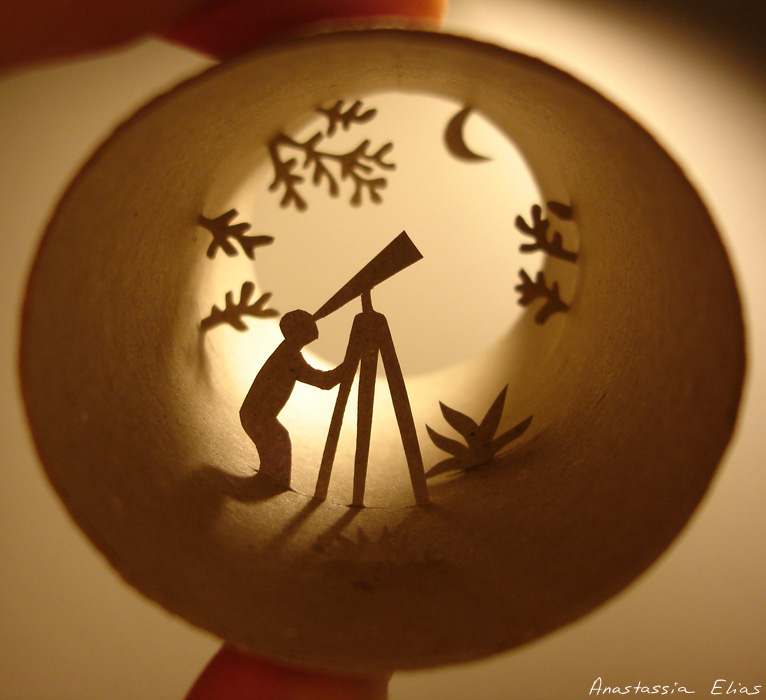 Art – like beauty – is in the eyes of the beholder
Those who produce toilet paper cores believe that they merely provide part of a hygienic solution for a daily need which improves the lives of individuals and families around the world. All this is true but… it does not paint the whole picture. Those who produce and sell toilet paper cores also contribute directly to the pursuit of artistic beauty.
French artist Anastassia Elias has founded Toilet Paper Art using cores to create scenes from everyday life, as well as suggestions and predictions. Thanks to her extraordinary intuition and unparalleled dexterity, Anastassia crafts believable scenes from life in the space of just a few centimeters.
A few years before, Linda Schailon used toilet paper cores as the raw material for a series of artistic creations, but it is thanks to the work of Anastassia that the core has become not only the raw material but the defining item of the art itself.
Riding the wave, the collective creativity of the web has seized the opportunity to give life to small examples of artistic experimentation that span from the creation of faces using the roll cores to decoration and creative recycling. This has inspired some highly original works which give new meaning to an apparently basic product, indicating that a new perception of toilet paper is gaining ground.
Being providers of raw material for art is a new responsibility, an honor that every producer should welcome with joy and commitment.
Experience shows that the restyling of any functional product lends it fashionable credentials – from cooking utensils to bicycle bells, from car radio antennas to coffee makers. So the use of toilet paper for purposes that have everything to do with art and nothing to do with the bathroom, opens up a truly meaningful cultural opportunity.
When beauty touches daily routines, we must acknowledge that we are dealing with a very deep maturation of markets: in a complex society, the individual's need for pleasure and harmony becomes a consumable asset. A functional object is lacking in purpose if it does not provide a meaningful sensorial experience; as Steve Jobs perceived, beauty, too, becomes a function. In this context we are at the dawn of a new era, an epoch in which – thanks to beauty, to pleasure – consumers (who are, above all else, people) feel the need to pamper themselves. In satisfying that need, we go beyond mere pleasure of use, to a profound appreciation of subjective identities.
In Act 1 of "Love's Labour's Lost", William Shakespeare has the Princess of France say: "Beauty is bought by judgment of the eye, not uttered by base sale of chapmen's tongues", summarized later by Goethe in: "Beauty is in the eye of the beholder". The magic of art (and one of its roles within society) is actually this: looking with different eyes, discovering beauty and creating a new vision of the world.
For the coming years this new vision of the beauty of toilet paper is a new challenge for producers and for those tasked with creating systems and machines for paper mills. A future filled with refinement, ethics and beauty awaits us.
We will speak about this, too, at It's Tissue 2018.
Photo by Anastassia Elias – CC BY-NC-ND 2.0